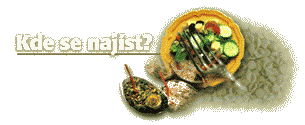 List of vegetarian restaurants Czech republic
This list is designed to help vegetarians, or those who are cutting down on the amount of meat they are eating, while they are travelling.
There is a distinct lack of real vegetarian restaurants, so the list also includes places which serve both meat and meat-free dishes. If you find yourself in a town where there are no vegetarian facilities you may have to resort to Pizzerias or health food shops. Tearooms are also mentioned as they offer the tired traveler the chance to relax in a non-smoking environment.
Restaurants have been divided into four sections: A - K, L - Z, Prague and Slovakia and are listed in alphabetical order. A list of bio/nutritive shops is also included.
editor@vegetarian.cz email Contact
---